Engineering managers are experienced engineers who currently manage technical activities in both large and small organizations. No matter the size of the company, an engineering manager makes decisions that are part of the management chain of command and impact the success of technical activities. Making data-based technical decisions is at the core of what an engineering manager does. The success of an engineering manager's career depends on these decisions. And in today's ever changing technology-based world, these decisions are not easy.
Thus, engineering management is an in-demand, growing field that's constantly evolving to accommodate modern technical concepts like artificial intelligence (AI) and big data and other technologies emerging from the fourth industrial revolution. Engineering managers are needed in project management, director, and executive roles across engineering fields, including mechanical, civil, environmental, chemical, biomedical, biotech/pharma, industrial, aerospace, aeronautical, and petroleum engineering. Aspiring engineering managers will play a valuable role in the key technical decisions that will help these industries adapt to an ever changing technological world.
If you aspire to advance your engineering career, an engineering manager role can pave the way for many diverse leadership opportunities. The duties of an engineering manager include planning, designing, and overseeing projects, as well as managing finances and supervising one or more engineering teams. The higher the engineering manager rises up the technical management ladder, the more engineering teams and managers fall under him/her. The work of an engineering manager requires a combination of skills and knowledge including engineering expertise, personnel management, leadership skills, and financial and business acumen.
The mistake I want to highlight…is for engineers to burrow in, as opposed to reaching out. A very high priority is networking…to go build your network to get a sense of the culture. Then keep those networks alive, find mentors and connect.
--John Doerr, Partner at Kleiner Perkins Caufield & Byers and Rice Alum (Electrical Engineering)
In this article, you'll learn more about the duties of an engineering manager, how to pursue this career path and how to be successful in this profession. You'll gain insight into the engineering manager role and the necessary skills and responsibilities to excel in the field.
What is an Engineering Manager?
An engineering manager is an experienced engineer who manages technical activities and team(s) of engineers, related professionals, and support personnel. This type of manager has likely already proven herself/himself to be a highly competent engineer, who showed a sense of vision, teamwork, and responsibility.
At some point, an early-career engineer may face a career decision: either stay technical (instead of leaving the engineering and technology directorates) and remain an individual contributor engineer, or expand his/her skillset in order to become an engineering manager. To climb the individual contributor ladder, that engineer must typically earn graduate degrees in a field of engineering like the Master's degree or a Ph.D., in mechanical, electrical, chemical, civil, or architectural engineering or in the computational sciences (i.e., computer science, statistics, and computational and applied math). Those who decide to become engineering managers can first earn a Master's in engineering management (MEM) degree, or as it is known at Rice, the Master's in engineering management and leadership (MEML) degree. Figure 1 below shows these two technical career tracks for the engineer at a technology company. It should be noted here that in both of these tracks, the engineer has decided to remain technical and work amongst top technical talent.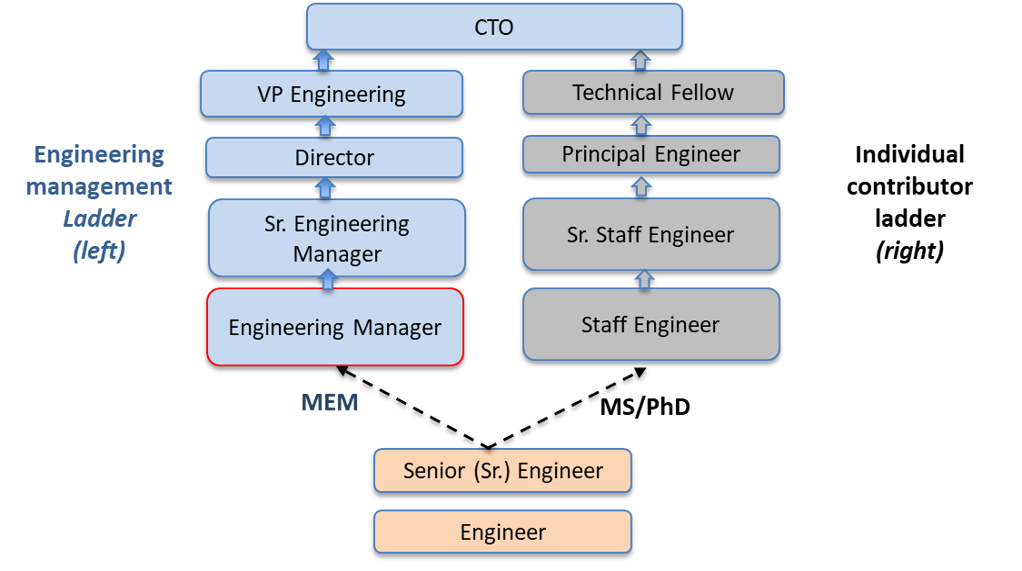 For the engineering manager, he/she has decided to lead engineering without leaving engineering. Yet, the engineering manager is a part of an organization's management chain of command, the levels of management that make both strategic and operational decisions. The strategic decisions require that an engineering manager communicate and 'manage up' to executives. The operational decisions require that an engineering manager lead and manage down with the teams doing the technical work and interact horizontally with management peers in other divisions such as finance, marketing, human resources (HR), and information technology (IT).
Across industries, an engineering manager's strategic responsibilities involve communicating with key stakeholders to determine project goals and objectives and report on outcomes. These key stakeholders are normally executives and customers.
An engineering manager's operational responsibilities involve overseeing engineering projects and teams. They help strategize, design, and manage projects at every stage, ensuring that the projects are completed efficiently, correctly, and on schedule. Engineering manager duties also include working with and managing each member of the engineering team(s).
While the strategic and operational responsibilities of an engineering manager are consistent across industries, the role will vary across engineering specializations.
Mechanical engineers work with a team and oversee the execution of technical and design operations. Mechanical engineering professionals are also tasked with administrative aspects of the project including financial planning and budget and coordinating work schedules. As the engineering field continues to advance, mechanical engineers will leverage I4 technologies like Big Data, AI (machine learning), digital twins, 3d printing, and thermal-mechanical sensors. These technologies enable engineering managers to use simulation and data-driven innovations to test products and troubleshoot potential problems.
Chemical engineers work with teams and technicians to design and implement processes to manufacture chemicals and other products. In addition to managing teams and personnel, chemical engineering managers develop the procedures that define how a project works to ensure teams are meeting deadlines and following best practices and compliance regulations. Chemical engineers will use I4 technologies including chemical and biological sensors, AI, and simulation based engineering to help digitally transform operations. These advanced technologies will also help to create smart supply chains and chemical processing plants and streamline internal processes.
Civil engineers lead technical and design teams on civil engineering projects, like buildings and infrastructure. The civil engineering manager is charged with supervising team members and personnel and coordinating budgets and schedules. As the engineering field continues to evolve with I4 technologies like building and environmental sensors, AI, and mobile device based smart and connected platform products, civil engineers will be able to digitize and automate various aspects of their jobs, leverage real-time data processing thanks to IoT, and plan projects virtually before arriving on site.
One of the key components being spread across all the above I4 technologies is data. At Industry 4.0 companies, data from sensors and mobile devices can be collected, processed, shared, stored and then acted upon to control machines and processes.
What Does a Director of Engineering Do?
Engineering managers and leaders exist at different hierarchical levels of an organization, depending on the size of the company or firm; for example, Managers, Directors, VPs, and C-Suite. So, what does a Director of Engineering do?
Typically, a Director of Engineering focuses on 3 primary needs: 1. Project management, coordination and stakeholder alignment, 2. Resource allocation, and 3. Hiring great talent.
Project management, coordination and stakeholder alignment: Engineering projects can be extremely complex, expensive, lengthy and high-stakes in terms of individual safety and public health. Directors of Engineering are skilled at managing their teams' individual workflows and contributions to ensure quality, on-time, on-budget delivery.
Resource allocation: Engineers are highly-skilled workers with in-demand skills. Directors of Engineering ensure their organizations are extracting the greatest value from their human capital, assigning the right engineer(s) to the right work based on various factors like technical expertise, individual strengths, team culture, and more.
Hiring great talent: Hiring the right talent is an art form, as hiring highly skilled, in-demand workers is competitive and time-consuming. Understanding an organization's culture, HR benefits, goals and priorities is essential in identifying the right candidates and convincing them to join the engineering function.
At the Director level, engineers usually rely less on their individual technical expertise, although they'll still have that hard-earned knowledge and skills (e.g., programming, mechanical engineering). Instead, the day-to-day emphasis on "soft" human skills like management, communication, and relationship-building increases.
What are Some of the Duties of an Engineering Manager?
The duties, responsibilities and goals of an engineering manager are vast and can vary based on specialization and industry. An engineering manager's duty or role includes leadership responsibilities, organizational tasks, and administrative duties.
Engineering managers are responsible for hiring new team members, supervising, and guiding multiple engineering teams, and identifying training opportunities and career development strategies to help their teams improve. Because engineering managers' goals involve building teams and developing team members, they must also understand concepts like diversity, equity, and inclusion when creating teams and supporting individual team members in the workplace.
These organizational development activities provide developmental opportunities for employees and are a critical part of the employee development and succession planning process, which are critical in developing high-performing organizations. For example, in manufacturing companies, engineering managers lead teams in the analysis of operations and supply chains to improve the robustness of processes and address critical business continuity and supplier issues. Engineering managers must also resolve day-to-day project problems or team conflicts, strategize and manage project timelines, and research and propose products and designs. It's the engineering manager's responsibility to 'win' the resource allocation process and gain approval from upper management for great ideas; they know how product development is connected to economic and financial outcomes.
In addition to leadership and team-building responsibilities, good engineering managers also serve as project managers and must structure and manage project budgets and finances and ensure teams work according to predetermined schedules and timelines.
What Skills Do You Need to be an Engineering Manager?
To be an effective engineering manager, you need a variety of engineering and leadership skills, including:
[Some of the most important skills include] technical competence, being able to communicate effectively to all levels of the organization, and being able to positively influence decisions even when you are not in a position of formal authority.
--Dr. John Via, Professor in the Practice, MEML@Rice
Leadership: You'll be in charge of managing one or more engineering teams as team members work together to complete projects. Strong leadership skills are essential for boosting morale, resolving conflicts, assigning team members roles in which they're most likely to succeed, and encouraging and maintaining team productivity.
Communication: With clear, effective communication, your team will understand what's expected of them, so they will better adhere to project tasks and deadlines. Strong communication skills will also help when it's time to pitch products to upper management, keep them updated on project progress, and convey the needs of your team.
Technical: To understand project needs, support your team, and create new designs or products, hard technical skills — like proficiency in software design and development, coding, databases, technical languages, and applications — are a must. You should also understand or have experience with concepts like Big Data and the Internet of Things (IoT), as they're increasingly essential to business and engineering operations, informing strategies and product concepts and designs. IoT, where devices and machines have distinct identities on the internet, gives engineering managers the ability to troubleshoot, diagnose, and fix problems remotely, which can be applied across a wide range of industries to improve products. Astute I4 engineering managers will often automate the decision-making process with their algorithmic thinking, by digitizing key factors in the process flow.
Project management: Project management makes up a significant portion of an engineering manager's responsibilities. You need organizational, analytical, and problem-solving skills to complete tasks like meeting deadlines, setting goals, delegating responsibilities, tracking budgets and billing clients, and making the best use of available resources.
Innovation: Engineering management positions challenge you to tackle new problems, propose new products, and develop strategies to improve efficiency, productivity, and/or operations. Having an innovative mindset will help you brainstorm creative and effective ways to carry out your duties and strive for continuous growth. Technology improvement each year is innovation, and the company with the fastest pace of innovation may find itself the marketplace leader.
Decision-Making: Today's business environment is complex and requires the skill of decision-making. Having the above list of skills will help inform the decisions you will need to make as an engineering manager. Automation and digital engineering are two growing competencies that impact how decisions are made.
What Makes a Good Engineering Manager?
As we've seen, a good engineering manager will have a broad range of valuable human and organizational skills, beyond the individual technical expertise gained through education and work experience.
What truly makes a good engineering manager? The understanding and acceptance that s/he will no longer know everything as an individual contributor and, instead, will have to rely upon and trust the teams of engineers with whom s/he works. Management and leadership, in large part, come down to relationship building, negotiation, and communication. Great engineering managers know this and become practiced in building relational bridges and internal political capital over time.
How Do You Become an Engineering Manager?
Engineering managers need years of relevant experience and advanced training. First, you need to earn a bachelor's degree in an engineering field from a program that's accredited by the Accreditation Board for Engineering and Technology (ABET). Next, you'll need to take on an engineering position to gain industry experience. After a couple years of work, if you still desire a career in engineering management, you can pursue a Master's Degree in Engineering Management, after which you will qualify for lead engineering manager and related roles. Otherwise, you may have to wait until you gain years of experience and even then, new leadership may oust you in favor of engineering managers with advanced degrees like a MEM.
The Master of Engineering Management and Leadership (MEML) program will help you develop engineering management skills through hands-on training and a robust curriculum that combines the necessary training and expertise required for engineering managers to succeed. Learning from world-class faculty and gaining practical experience through a unique Capstone program, you'll develop real-world, professional experience while receiving personalized instruction in focused classes.
Become An Engineering Manager With MEML@Rice
MEML@Rice will prepare you for an advanced career in engineering management. Complete the short form below to connect with a Rice Enrollment Coach, and learn more about how the program works and how it can help you in your career aspirations.
Rice MEML program becomes 1 of only 9 programs to earn distinguished ASEM Certification.
×