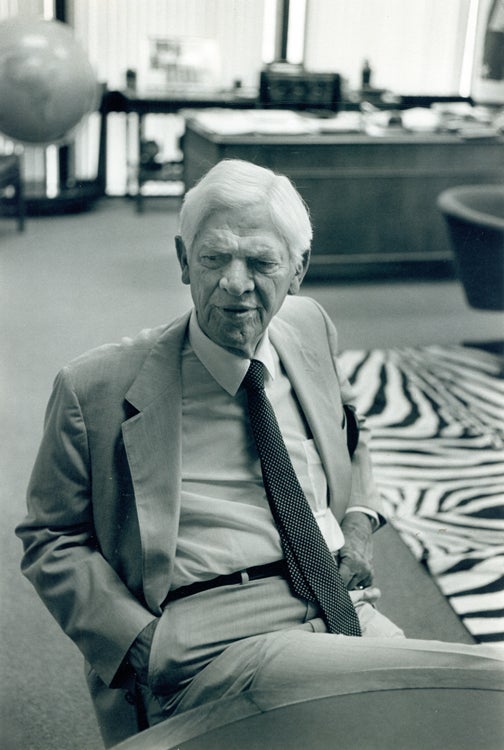 George Rufus Brown (1898-1983), after whom the School of Engineering at Rice University is named, was born in Belton, Texas. After studying at Rice, he graduated from the Colorado School of Mines in 1922 and joined the construction firm started by his brother, Herman Brown. The company later became Brown and Root, Inc. after Herman's brother-in-law, Dan Root, a Central Texas cotton farmer, invested in the firm.
Brown and Root started in road building, constructed the Marshall Ford (now Mansfield) Dam on the Colorado River and, in 1940, won the $90 million contract to build the Naval Air Station at Corpus Christi. By the late 1950s, Brown and Root was among the largest engineering and construction companies in the world. Shortly before the U.S. entered World War II, the Browns went into the shipbuilding business. Their company employed some 10,000 people and built 359 ships. Brown is credited with aiding Lyndon B. Johnson in his rise from Texas congressman to president.
After the death of his brother in 1962, Brown became president of Brown and Root. That year, he sold the business to the Halliburton Company. Brown later served as a director of Halliburton, Armco Steel Corporation, Louisiana Land and Exploration Co., International Telephone and Telegraph Corp., Trans-World Airlines, Southland Paper Co., First City Bancorporation and Highland Oil Company. In 1951, Brown, his brother Herman and their wives founded the Brown Foundation, which has donated to Rice, Southwestern University and the Museum of Fine Arts, Houston, among other recipients. As of 2018, the Brown Foundation had given away some $1.6 billion.
Brown was also heavily involved in leadership at Rice. In 1943, he was elected to the Rice Board of Trustees and became chairman of the Board in 1950 — the first alumnus to receive this honor. Brown helped guide the university through its first major growth, including the construction of Fondren Library, Anderson Hall, Abercrombie Engineering Laboratory and the opening of a new 70,000-seat football stadium in 1950. He also helped guide the university toward a culture of excellence in teaching, scholarship and research and was chairman when the university established the Rice College system in 1957.
While his chairmanship of the Board ended in 1965, his service to Rice did not. He was the chairman of a $33 million capital fundraising campaign. Brown pledged the largest gift, $4.5 million, and traveled widely across the country to with alumni on behalf of the university. Brown continued to give generously for many years and is known as one of Rice's great benefactors and leaders.