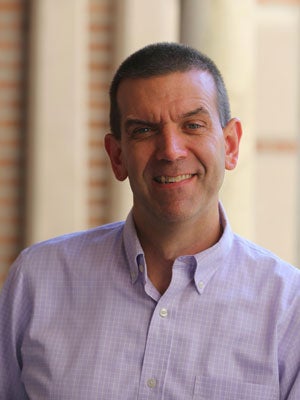 Robert Griffin is serving as interim dean of the George R. Brown School of Engineering.
Dr. Griffin received his B.S. from Tufts University in 1993 and his M.S./Ph.D. from Caltech in 1997/2000 (all in chemical engineering). Between Tufts and Caltech, he was a Research Assistant at Arthur D. Little, Inc. Previous academic appointments were held at Duke University and the University of New Hampshire. Prior to his role as Interim Dean, Dr. Griffin served as Senior Associate Dean for the George R. Brown School of Engineering, Chair of the Department of Civil Environmental Engineering at Rice, Rice's NCAA Faculty Athletics Representative, and a Magister of Hanszen College.
Dr. Griffin's research interests lie in performing field, laboratory, and computational experiments designed to understand the effects and behavior of pollutant species in the troposphere. He has published over 100 scientific manuscripts in this field. Dr. Griffin serves as a member of the Board of Directors of the American Association for Aerosol Research and of the Independent Technical Advisory Committee for the Air Quality Research Program of the Texas Commission on Environmental Quality. He also serves on the editorial board of the journal Atmosphere. Dr. Griffin is a member of the American Chemical Society, the American Geophysical Union, the American Association for the Advancement of Science, the Association of Environmental Engineering and Science Professors, and the American Society for Engineering Education.
Dr. Griffin's teaching interests are focused on undergraduate courses in air pollution control and fluid mechanics and on graduate courses in atmospheric chemistry and atmospheric aerosols. His pedagogical efforts focus on incorporation of problem-based learning, communication, and current scientific literature into his courses.
Dr. Griffin's research and teaching efforts have been recognized both nationally and across the Rice campus. He is a recipient of a NSF CAREER Award and a University Corporation for Atmospheric Research Faculty Fellowship. His efforts have been rewarded with the Rice-wide George R. Brown Award for Superior Teaching (twice), the School of Engineering Teaching and Research Excellence Award, the School of Engineering Excellence in Teaching Award, and the Rice Excellence in Athletics Award.