Excellence Through Diversity
Ranked 1st in the nation with 11% underrepresented minority faculty*
Ranked 8th in the nation with 20% female faculty*
Ranked 7th in the nation with 22% underrepresented minority undergraduate students*
Ranked 12th in the nation with 31% female graduate students*
33% of undergraduate students are women
13% of undergraduates students are first-generation
*among self-reporting AAU institutions (Fall 2018)
Rankings Highlights
2020 U.S. News & World Report Best Graduate Schools
#27, George R. Brown School of Engineering
#10, Bioengineering
#26, Computer Engineering
#14, Environmental Engineering
#11, Computer science programming languages
#20, Computer science
#23, Electrical Engineering
#29, Mechanical Engineering
#26, Chemical Engineering
#26, Civil Engineering
#26, Materials Science
#39, Statistics
2021 U.S. News & World Report Best Undergraduate Engineering Programs
#19, George R. Brown School of Engineering
#8, Biomedical Engineering
#23, Chemical Engineering
#31, Civil Engineering
#24, Computer Engineering
#20, Computer Science
#24, Electrical Engineering
#15, Environmental Engineering
#25, Mechanical Engineering
2020 U.S. News & World Report Best Global Universities*
*most recent rankings
Enrollments & Degrees Awarded
| Annual Year | Undergraduate | Professional Master's | MA / MS | PhD |
| --- | --- | --- | --- | --- |
| 2018-19 | 410 | 162 | 68 | 105 |
| 2017-18 | 378 | 133 | 65 | 97 |
| 2016-17 | 359 | 140 | 97 | 100 |
Engineering Majors
2018: 1486 undergrad, 996 graduate
2019*: 1466 undergrad, 1,032 graduate
* As of Sept. 6, 2019
First-Year Enrollment
Female 42%; Male: 58%
ACT 25th percentile: 34, 75th percentile: 36.
SAT 25th percentile: 1470, 75th percentile: 1560
Ethnicity of students: African American 7%; Asian American 23%; Caucasian 34%; Hispanic 19%; International 11%; Multiracial 4%
First-generation college students: 13%
Pell Grant recipients: 17%
ASEE Diversity Recognition Program, Bronze Level
*2019 incoming class.
Learn more about our enrollment and degrees awarded.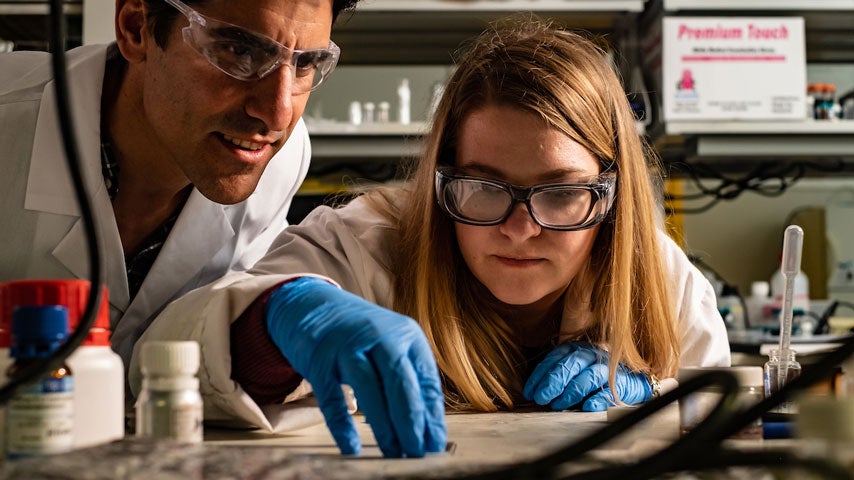 Research & Faculty
Tenure and tenure-track faculty: 136
National Academy of Engineering members: 8
National Academy of Sciences members: 3
National Academy of Medicine members: 2
Total research expenditures: $75 million (2018-19)
60% of undergraduates have significant research experience by graduation
Learn more about our research and faculty.
Graduates & Alumni
Degrees granted (2018-19): Ph.D. 105, MA/MS 68; Professional Master's 162; Undergraduate 409
After graduation: Engineering 64%; Medicine 19%; Graduate arts or sciences 19%; Law 3%; Business 2%; Other 1%
Average starting salary of graduates: 100K+ 24%; $80-100K 18%; $60-80K 43%; $40-60K 14%
Top 10 Employment Destinations
Rice Engineering alumni go on to work across the globe at Fortune 500 companies, startups and organizations in industries including technology, medicine, business and more. These are the top placements for our recent alumni.
AIG
Airbnb
Epic
Facebook
Google
IBM
JP Morgan Chase
Microsoft
Samsung
Schlumberger
Top 10 Graduate School Destinations
Carnegie Mellon University
Columbia University
Cornell University
MIT
Rice University
Stanford University
The University of Texas at Austin
University of California, Berkeley
University of Michigan
University of Pennsylvania