Engineering Management vs. MBA
MEML vs. MBA at Rice University
Master of Engineering Management & Leadership (MEML, or MEM degree)
Master of Business Administration (MBA)
Which Degree is Right for You?
Engineering Management vs. MBA
Understanding the differences between a Master of Engineering Management (MEM) degree and a Master of Business Administration (MBA) degree can help engineering and other technical professionals determine the best degree for their career development and professional aspirations. Once senior engineers begin consistently succeeding at their jobs, they begin to consider their future career prospects. These prospects traditionally have been to either continue gaining technical experience as an individual contributor or going into 'management'. These two choices sound clear and simple. However, once such engineers begin researching the skills and work experience needed for these kinds of promotions, they realize that their best chances for succeeding against the competition is to return to graduate school to ensure they have all the requisite skills, training, and credentials needed to compete. It is here that they learn the merits of getting a Master of Engineering Management (MEM), an MBA, or a technical Master of Science (MS) degree (and sometimes a doctoral degree (PhD)) in engineering or a related technical field.
In the best of scenarios, these three graduate-school powered offerings can help you climb the career ladder at your corporate employer. Figure 1 depicts the three career ladders that the engineer can climb with the corresponding graduate degree credential in hand.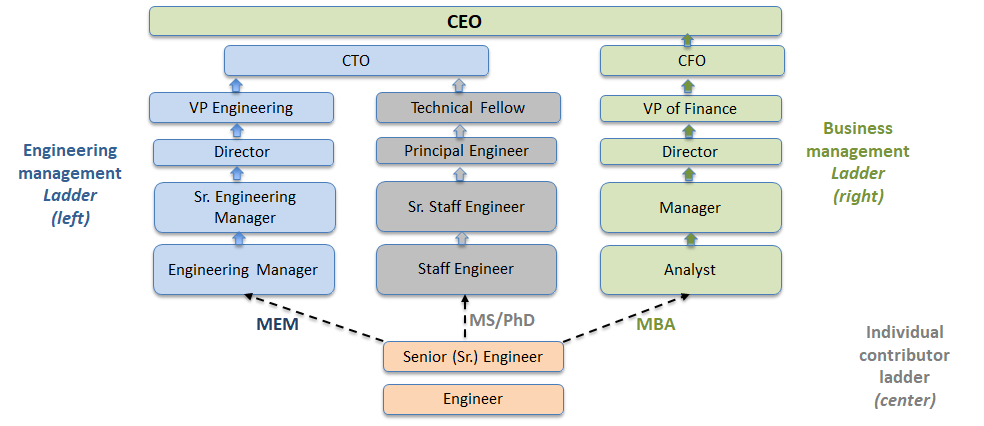 Although many engineers become technical managers through various internal corporate training workshops or through learn-as-you-go work experiences, some have received advice to pursue an MBA to gain lucrative management opportunities on the business side of the company while leaving the technical track. For some, the opportunity to transition away from hard core technical activities to pursue business management, financing, accounting, marketing, and management consulting is quite appealing. But to others, there is a desire to oversee technology creation, develop new product and services, and launch high-tech start-up companies. Their engineers and computer scientists find it enticing to remain technical by taking their talents to lead teams to innovate and create new technologies. In other words, the individual wants to lead engineering not leave engineering. It was for this engineer that the MEM degree was created in the 1980s.
An Engineering Degree for the Industry 4.0 Era
The MEM degree is not merely a combination of engineering and management, it bridges the gap of information between engineering and business management in order to train engineers to lead technical teams and units.
The Master of Engineering Management and Leadership (MEML) degree at Rice University is a MEM degree, yet it adds a focus on educating engineers to lead in the Industry 4.0 era. Industry 4.0 refers to this digital transformation era which is being accelerated by the convergence of the digital (data and AI), biological (human) and machine entities that will change the way people work and live, and how products are produced and consumed. The MEML degree program is specifically designed for engineers and STEM professionals who want to further develop their technical, digital, and human leadership skills necessary to lead diverse teams of engineers and technical experts.
Every company or organization must become a technology company to survive tomorrow's business environment.
Engineering managers who can assemble and lead engineers to develop solutions in this increasingly data-driven world are crucial to the success of these companies. The MEM (or MEML) degree places an emphasis on training engineers to become leaders of technology, motivators of engineers, visionaries, and/or entrepreneurially minded engineers. These engineering manager leaders are taught to connect technology service or product functionality to economic outcomes.
A MEM program is more geared toward students who want to advance within the rapidly evolving R&D, innovation, engineering and tech/IT fields, while an MBA may be more suited to individuals who want to explore other fields or business-related career paths like corporate strategy, organizational design, corporate responsibility, finance and marketing. Several variants of the core MBA have been created and many academic institutions are rethinking their MBA content and restructuring program curriculum to evolve with societal and workplace needs like ESG investing and diversity, equity and inclusion.
An MBA program offers exposure to a broad variety of business topics, including general business management, marketing, accounting and finance, and corporate strategy. An MBA can also be useful for engineers who have decided to leave engineering in order to acquire more focused knowledge on general business management and entrepreneurship. They may also want to lead the business divisions, such as marketing/revenues and finance, which are outside of the engineering or technical based units.
MEML vs. MBA at Rice University
Both the Master of Engineering Management and Leadership (MEML) and MBA degree programs at Rice offer students the opportunity to further their education and advance their careers.
Here's a detailed look at the three types of master's programs engineers often pursue:
Master of Science in Engineering (MS)
Master of Engineering Management (MEM)
Master of Business Administration (MBA)
Program Description
A disciplinary program aimed at giving engineers increased mastery via advanced engineering subjects. Graduates become technical individual contributors on engineering teams at companies.
A cross-disciplinary program aimed at preparing engineering or technical professionals to manage and lead technology, teams, and organizations. It helps engineers to lead engineering without leaving engineering.
A business-oriented program aimed at preparing participants for executive leadership, supporting company growth and scalability (start-ups), and fostering new and innovative thinking.
Skills Developed

A graduate-level understanding of a specific undergraduate engineering discipline like biomedical, civil, chemical, electrical/computer, and materials engineering.
Advanced engineering problem solving
Research or advanced technical problem-solving experience
Advanced math skills

Engineering leadership
Technical strategic planning
Product management in Industry 4.0
Engineering project management
Engineering ethics
Engineering economics
Applied statistics and data science
Industry 4.0 technologies insight (MEML)
Specializations such as data science, computer science, other engineering disciplines

Business strategy
Managerial economics
Data analysis
Negotiations
Leadership
Finance and accounting
Marketing
Organizational behavior
And many electives such as accounting, operations management, risk management, real estate

Career Path

Engineering individual contributors with entry level experience and a M.S. degree earn an average salary of $87,0001. Degree holders often climb the individual contributor ladder and eventually hit a ceiling without a PhD. Below is a possible career path with base salary ranges1 :

Technical Fellow (PhD), $139k - $213k
Senior Principal Engineer - $110k - $181k
Staff Engineer, $57k - $164k
Senior Mechanical Engineer, $80k - $136k

Depending on work experience, MEM (or MEML) degree graduates start off at an average of $96,0001 and progress to engineering management roles. Ultimately, high-achieving engineering managers advance to the C-suite engineering executive role of CTO. Below is a possible career path with salaries1:

Chief Technology Officer, $92k - $250k
Vice President of Engineering, $121k - $243k
Director of Engineering, $96k - $199k
Engineering Manager, $83k - $151k

Depending on work experience, MBA graduates from top tier business schools such as Rice2 start of at $125,000+ and progress to upper management roles. Ultimately, high achieving managers advance to the C-suite business executive roles of CFO (or higher). Below is a possible career path with salaries1:

Chief Executive Officer, $74k - $307k+
Chief Financial Officer, $91k - $196k
Finance Director, $65k - $167k
Product Manager, $60k - $127k

Prerequisites

Bachelor's degree in engineering or a related area
GRE exam (typically required)

Bachelor's degree in engineering or an engineering-related field
GRE exam (typically not required)

Bachelor's degree (no specific major requirement)
GMAT (required)

Education

30 credit hours, which mostly includes advanced engineering coursework, some professional development electives, and no capstone project.

30 credit hours of engineering management leadership (MEML) coursework that includes seven engineering management courses, three graduate engineering courses, and an MEML capstone project.

54 credit hours of business management coursework that often includes business courses and field experiences.

Typical completion time

12-24 months

12-24 months

24 months
References in the Table:
(Source: All salary ranges were generated by Payscale.com for the city of Houston, TX. They are only base salaries and exclude bonus incentives.)
Master of Engineering Management & Leadership (MEM, or MEML)
MEML@Rice is a professional, non-thesis master's degree at Rice University that helps engineers and technical professionals achieve personal and professional growth so they can confidently take on manager and ultimately, executive technology leadership roles. Graduates know how to effectively manage data-driven digital transformation across a team, department, or organization in an engineering or STEM environment.
Like a standard MEM degree, the MEML program at Rice equips engineering professionals with engineering management training and provides the necessary human leadership and communication skills to enable individual contributor engineers to become effective, empathic and confident engineering leaders. Through a robust curriculum and hands-on training, graduates will be prepared to take on in-demand, high-paying positions such as engineering manager and data science lead.
With experience, we expect our graduates to ultimately become VPs of Engineering or Chief Technology Officers. Offered on-campus and online, the cross-disciplinary program develops your leadership potential in ethical decision-making, engineering management strategy, and evaluating the economic viability of technology ideas and business models.
Technical and Management Acumen
History has shown us that the first three industrial revolutions used new technologies to expand and accelerate the production of goods and services. These revolutions were powered by steam, electricity, and computing respectively.
The fourth industrial revolution is underway now and it is being powered by artificial intelligence and big data, plus a set of transformative advanced technologies (e.g., 3D printing, internet of things, digital twins, cloud computing, and augmented reality), which combine physical and digital interaction in innovative, productive ways.
To thrive in the fourth industrial revolution, engineering leaders need to gain advanced engineering knowledge and technology leadership. The Master of Engineering Management and Leadership (MEML) degree at Rice offers a curriculum designed to advance your engineering management and leadership skills as well as your technical expertise. You'll learn product, people and project management skills specific to technical or engineering enterprises in the age of digital technologies, such as AI.
You'll also develop the skills required to take an ethical approach to decision-making. Plus, you'll build on your technical and engineering foundation with skill sets that enable you to be an engineering manager and leader who understands and is able to generate value from data. MEML graduates gain exposure to ethical and social-good decision making, such as the technical management of climate change, and/or technologies within the nexus of sustainable food, energy, and water.
Engineering Management Career Opportunities
The MEML@Rice degree program is designed to equip students for engineering leadership career opportunities in the Industry 4.0 landscape. Master of Engineering Management degrees are in demand by engineering and technology companies across a wide range of industries including technology, aerospace, AI and data science, medicine, industrial engineering, material science and more. Average annual salaries often range from $100,000 to upwards of $200,000 depending upon the industry and prior work experience.
Curriculum
The MEML@Rice professional master's degree program offers 30 credit hours of engaging instruction that can be completed online or in a hybrid model part-time while working full-time, in just 20 months. This includes nine courses and an engineering leadership capstone project. Students learn how to lead, manage, and inspire teams of engineers and technical professionals, gain confidence in connecting a technology product to economic outcomes, build technology business models and establish themselves as innovators and Industry 4.0 leaders. Program participants can choose a specialization in data science or computer science to hone specific engineering skills that lend themselves to a wide variety of careers in the field.
Master of Business Administration (MBA)
Rice offers MBA programs full-time, part-time, on campus, or hybrid online. The MBA@Rice degree is a 54-credit graduate program designed to help you develop advanced business skills to help you run a profitable enterprise. Focus areas and electives allow you to customize the academic experience.
Entrepreneurial and Innovation Mindset
The MBA@Rice degree program offers students opportunities to advance their education and skill sets beyond essential business principles. Innovation and entrepreneurship are integrated throughout the curriculum. Plus, you can personalize your experience by choosing a specialized industry focus including corporate strategy, finance, investment management, marketing, entrepreneurship, energy, and healthcare.
While some of the MEML@Rice students enter the program as entrepreneurs, the program typically prepares engineers to become technology 'intrapreneurs'.
The term 'intrapreneur' here refers to engineering managers and leaders inside of companies, who successfully make the business case to management to assemble and lead their own team of engineers and necessary personnel to design, manufacture, and prepare for deployment of new technology products and services.
Strong MEM programs will prepare its graduates to communicate with business managers in order to ensure success when going through the resource allocation process. The history of technology is riddled with stories where innovations were prematurely sidelined because engineering managers in large companies could not effectively make the case to gain resources for their ideas. Some of the ideas were picked up elsewhere by more business-savvy entrepreneurs who went on to commercialize these innovations, which became some of the most famous technology products in history. Movies like the Pirates of Silicon Valley have chronicled this phenomenon.
Career Opportunities
An MBA@Rice degree can be applied to a broad range of industries in the public and private sectors. With the MBA credential, you will be qualified to take on senior leadership positions or launch your own business. Rice MBA graduates are in demand by recruiters from top companies like Amazon, Google, Goldman Sachs and more who want to attract top talent to their teams. The MBA@Rice Class of 2019 reported an average base salary of more than $124,000.3
3.(Source: Rice MBA program report)
Curriculum
The MBA@Rice degree program is a two-year program with 21 courses and two field experiences to provide important functional and foundational knowledge along with practical business management training. Focus areas and electives allow you to customize the academic experience. Students can choose a full-time, part-time, on-campus or hybrid online program to pursue their degree.
MEM or MBA: Which is right for you?
Both a MEM degree and an MBA offer opportunities for career advancement and increased professional opportunities. But there are important differences between the degree programs including course curriculum, educational experience, and career outcomes.
Is a MEM equivalent to an MBA?
A Master of Business Administration program provides broad exposure to business fundamentals applicable to a wide range of enterprises, while a Master of Engineering Management degree delivers focused exposure to engineering and technology management skills development. The MBA degree offers an integrated curriculum including finance, marketing, data analysis, networking, and negotiation. It's an excellent choice for anyone who wants to increase their skills in general management and business strategy.
For engineers or other technical professionals who want to continue to pursue career advancement in their fields and are interested in a specific, focused academic path, the MEML@Rice degree program prepares them to be confident and effective leaders in technical environments and to become leaders in the Industry 4.0 landscape. Graduates gain engineering management, problem-solving, and communication skills that make them effective in leading and inspiring technology teams and organizations and help them to qualify for in-demand, lucrative careers.
Is an MBA better than a MEM? Is an MBA worth it for engineers?
Both Master of Business Administration and Master of Engineering Management degrees position you to advance your career and effectively lead. To determine the better option, you must consider your personal goals, and whether you want to lead technical professionals.
If you are an engineer or a related technical professional (e.g., computer scientists, applied mathematicians, and statisticians) who wants to manage and lead technical teams or enterprises focused on technology and technical innovation, a MEM degree program should be right for you.
If you want to develop flexible, broad and/or executive business management skills that can be applied in a variety of industries, you could be a good candidate for the MBA program.
Also, while numerous CEOs of high-profile technology companies have engineering degrees, the MBA has historically been a more common path for major corporation CEOs. Traditional CEOs often devise overall corporate strategies for whole organizations to compete in a particular industry.
In Industry 4.0, the jury is still out on the typical profile of the technology company CEO. First, all companies will need to become technology companies if they are to thrive in the rising fourth industrial revolution. Second, some industry experts have argued that the notion that technology is increasingly the bedrock of business means that start-up company founder-CEOs will continue to be engineers who learn to manage their growing companies from the schools of 'hard knocks' (i.e., they learn on the fly). Many of these companies grow into maturing companies which bring on traditional CEOs with MBA degrees to help them scale.
Professor Fred Higgs, the director of the Master of Engineering Management & Leadership (MEML) at Rice University, believes that technology startup entrepreneurs (or intrapreneurs who lead product development teams inside of large companies) should certainly consider the MEM degree like the MEML degree at Rice University. A past participant in the NSF I-Corps program and a former founder-CTO of a university start-up company, he subscribes to the I-Corps' lean startup methodology and tells future engineering founder-CEOs to aspire to run their startups lean enough to get by without bringing on business CEOs until after their companies have found a repeatable, scalable business model. Since young startups often need technical leadership and knowledge more than a broad set of business skills, a MEM degree, which covers the knowledge between engineering and business management, is a smart compromise.
Which is better after earning an undergraduate degree in engineering: MS, MEM or MBA?
Making the right choice about pursuing a Master of Science, Master of Engineering Management, or a Master of Business Administration degree after earning a bachelor's degree in engineering requires that you think about your career goals and personal situation. Each degree program will help you master specific skills and position you for career advancement (see Figure 1). If your goal is to increase the technical depth of your engineering skills or become more specialized in an engineering area, an MS program may be the right choice. If you want to use your engineering skills and develop leadership proficiency in managing technology teams or enterprises, MEM programs such as the MEML@Rice program would be a great fit. If you want to increase your skills in broadly managing diverse groups of people and organizations in a business environment on problems relating to marketing, finance, business strategy, and accounting, an MBA program might best help you achieve that goal.
As we fully enter this rapidly changing yet uncertain period known as the Fourth Industrial Revolution, most companies must become technology companies if they are to survive. The so-called 'Industry 4.0' companies who can thrive in this era will increasingly have radically different operating models which will require a new generation of leaders, who are algorithmic- and data-sophisticated yet who are talented in ways that machines are not, namely by possessing judgment, interpretation, planning, creativity, and compassion. The leaders who possess these especially human attributes and can easily handle data will likely be at the top of the mountain as startup and corporate leaders. But the backgrounds of these leaders are still yet to be determined because even in 2022, the top 10 most profitable Fortune 500 companies have 6 of 10 CEOs with an MBA and 6 of 10 CEOs who majored in engineering or computer science.
Rice MEML program becomes 1 of only 9 programs to earn distinguished ASEM Certification.
×