Program Goals and Outcomes
The Future Faculty Fellow Program aims to help participants:
Understand the range of faculty opportunities available and identify which ones align with their career goals (Level 1) 
Network with other students and faculty across campus (all levels)
Develop an understanding of the faculty hiring process (Level 2 and 3)
Develop skills and materials to apply and interview for faculty positions (Level 2 and 3)
Become aware of and understand the skills and resources needed to transition successfully into a faculty position (Level 3)
---
Benefits
The Future Faculty Fellows program prepares graduate students and postdocs for a career in academia by providing workshops, panel discussions and networking events tailored to a career pathway in academia. In addition to access to all FFF events, approved Level 3 fellows will receive a stipend to support travel ($1,000), and have access to focused events and mentoring, tailored to them.  
All levels of the program will have access to a Canvas course with additional resources and program announcements.
---
Teaching 
Teaching opportunities ranging from several lectures to a full course following School of Engineering policy might be available for FFF following graduate students as Instructors of Record and University Policy (SACSCOC). These opportunities will be identified by the fellow in collaboration with the academic department chair.
---
Our Events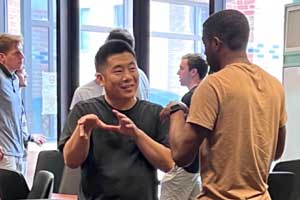 Academic Networking: 

Participants will learn how to make personal connections, expand their professional network, and leverage their network to solve problems. 

So You Have to Write a Diversity Statement: 

Participants will learn about what makes a strong diversity statement and how to start preparing to write their own diversity statement as part of their application portfolio.

Types of Institutions and Faculty Positions: 

Faculty panelists will discuss the responsibilities, expectations and benefits of a tenure-track faculty position at their institution. 

Writing a Cover Letter that Lands a Job: 

This workshop will help you prepare a cover letter that will uniquely communicate your experience and interest for a faculty position. Participants will learn what the major sections of a cover letter entail and how to tailor a cover letter to the type of position they are most interested in. 

Benefits of a Career in Academia: 

Faculty panelists will share their career trajectories from Rice to their current academic positions and answer questions during a live Q&A.
Photos of Past Events
Browse these photo galleries of our past FFF events: