This article originally appeared in the 2021 issue of Rice Engineering Magazine.
Construction of the new $152 million, 266,000-square-foot engineering and science building on the engineering quadrangle at Rice is underway.
The facility, on the site of the former Abercrombie Engineering Laboratory, will feature five floors, including laboratories, classrooms, a makerspace, a cafe and a reception suite. It will serve as both a meeting place and a focus on campus for research and technological advances.
International architecture firm Skidmore, Owings & Merrill (SOM) is lead architect for the new building. Houston's Scientia Architects is consulting on laboratory design. Completion is expected in 2023.
"This new building represents our largest single investment in engineering and science facilities since we completed the BioScience Research Collaborative (BRC) 12 years ago," said Rice President David Leebron. "It reflects our unwavering determination to stay at the forefront of the critical discovery and application of knowledge that will help solve the great challenges of our world."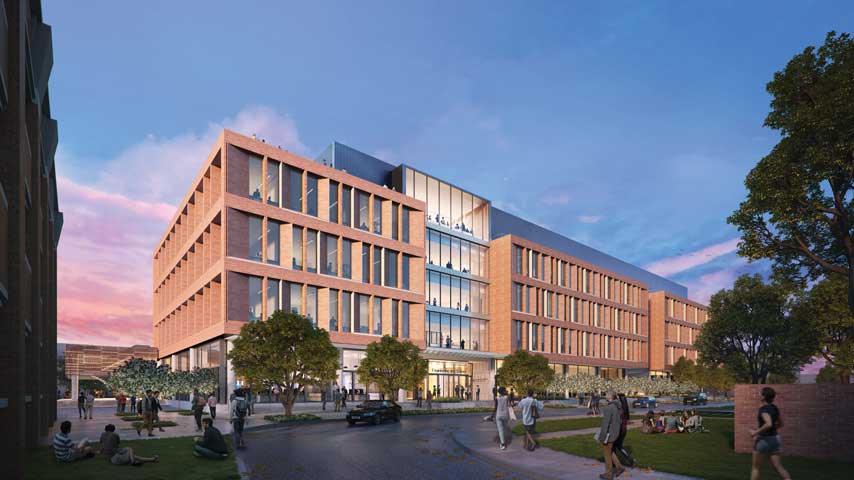 The institute is dedicated to developing new materials for energy systems, sustainable water, space systems, biomedical materials, telecommunications, manufacturing, transportation and security. The new building will also house Rice's Quantum Initiative, Carbon Hub and the Nanotechnology Enabled Water Treatment Center.
Provost Reginald DesRoches, who began working on plans for the facility while serving as the dean of engineering, said the expansion of research at Rice requires space better suited to nanotechnology, materials science, chemistry, electrical and computer engineering, chemical and biomolecular engineering and physics, among disciplines that will occupy the new building.
"It will allow us to usher in a new era of research and education that will have an impact on the future of Houston, Texas and the world," DesRoches said.
"Rice University is one of the one of a handful of campuses in the United States that attracts global attention among architects," said Craig Hartman, senior consulting design partner at SOM and lead designer of the building. He also designed the BRC.
Luay Nakhleh, the William and Stephanie Sick Dean of the George R. Brown School of Engineering, has firsthand experience with demands on the university and its faculty, having served as professor and department chair of computer science.
"Engineering now is very short on space, and this is going to relieve a lot of those issues," Nakhleh said. "More exciting is that this reflects our view of the future of engineering. One big plus is that this new building will help us recruit the best faculty."
If you are interested in supporting the new Engineering and Science Building or naming a space within this highly anticipated facility, contact your development representative, or reach out to Sara L. Rice, senior director of development, at 713-348-3189 or sdl@rice.edu. For more information on the building, visit futureofresearch.rice.edu.