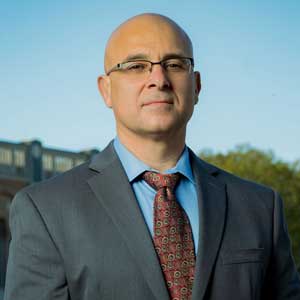 Dean's Welcome
I sincerely appreciate your interest in the George R. Brown School of Engineering at Rice University. I am proud to serve as the school's 11th dean as we execute our vision of groundbreaking global research and unmatched teaching excellence.
Engineering has been a part of Rice's DNA for more than 100 years. Today, we have joined the ranks of the top institutions in the nation, led by the cutting-edge research happening in our nine departments and 22 institutes and centers. We have distinguished ourselves as world leaders in health and well-being, resilient and adaptive communities, energy and sustainability, future computing and advanced materials. Our graduate students play an important role in our school. They are immersed in our research, part of a vibrant environment of exploration, creativity and innovation.
Our faculty members have been recognized by their peers at the highest levels, and the university's relatively small size allows many opportunities for undergraduate and graduate students to work side-by-side with them. That culture of collaboration empowers work on projects across campus, connecting us to the natural sciences, humanities, business and others.
Rice University thrives in the city of Houston, the nation's fourth-largest city, with endless opportunities for collaboration in numerous industries. The energy capital of the world is also home to the Texas Medical Center, the world's largest. The cultural, geographic and ethnic diversity of Rice Engineering mirrors its home city. More than a third of our engineering undergraduates are female, with nearly 25 percent coming from underrepresented backgrounds.
Edgar Odell Lovett, the first president of Rice led by the notion of "no upper limit." Please take a moment and explore our website and I think you will see many examples of our students and faculty representing that philosophy to its fullest.
If you have any questions about Rice Engineering, please feel free to contact us at any time.
Sincerely,
Luay Nakhleh
William and Stephanie Sick Dean
---
Messages from the Dean
August, 21, 2023: Solving for Greater Good
May 1, 2023: Thoughts on Our Culture and Operations
March 6, 2023: An Energetic Start to 2023
---
About the Dean
Luay Nakhleh, professor and former chair of the Department of Computer Science at Rice University, is the William and Stephanie Sick Dean of the George R. Brown School of Engineering.
He holds a bachelor's degree from the Technion – Israel Institute of Technology, a master's from Texas A&M University, and in 2004 earned his Ph.D. from the University of Texas at Austin, all in computer science. He joined the Rice faculty in 2004 and was named chair of the computer science department in 2017.
His research at the intersection of computing and biology focuses on developing new methodologies and software to study the history of both specific genes and entire genomes, and the genetic links between species. During Nakhleh's tenure as chair of computer science — the largest department at Rice, with 312 undergraduate majors and 258 graduate students — the faculty grew to 35 members with primary appointments in the department, plus a number of joint faculty and adjunct faculty.
Nakhleh received the Teaching and Research Excellence Award in 2015 and the Outstanding Doctoral Thesis Adviser Award in 2018, both from the school of engineering at Rice. In 2019, he was awarded the George R. Brown Prize for Excellence in Teaching, the university's most prestigious teaching award, and in 2020 the George R. Brown Award for Superior Teaching. Nakhleh launched Rice's first online degree in the School of Engineering, the Online Master of Computer Science program, and helped grow the Professional Master of Computer Science, the largest nonbusiness professional program at Rice.
He received the DOE CAREER award in 2006, the NSF CAREER award in 2009, the Phi Beta Kappa Teaching award in 2009, an Alfred P. Sloan Research Fellowship in the molecular biology category in 2010, a John P. Simon Guggenheim Foundation Fellowship in 2012 (in the organismic biology and ecology category).