On their website and in casual conversation, members of the Rice University chapter of the Society of Hispanic Professional Engineers (SHPE) refer to themselves not as a club and certainly not as an "extracurricular activity" but as familia — family.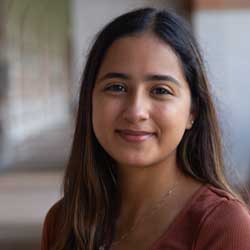 "For many of us, SHPE feels like a second family. We have each other's backs. We comfort each other," said Vanessa Mendoza, a junior in chemical engineering and president of the Rice chapter. With some 65 active members, SHPE has seen a resurgence in recent years.
"We increased member involvement by 315 percent from last year. I'm not exaggerating. We did this by compiling a list of incoming Latino STEM students, increasing the number of events and switching from monthly to biweekly general membership meetings," said Jose Castillo, a senior in mechanical engineering who serves as SHPE's internal vice president and previously as outreach chair.
Most SHPE members are ethnically Mexican but students from many Spanish-speaking nations — Peru, Columbia, Guatemala and Venezuela, among others – are also represented. Almost one-fifth of Rice students identify as Hispanic or Latino.
The forerunner of SHPE (pronounced "ship") at Rice was the Mexican American Engineers and Scientists, founded in 1989 by former Rice student John Rodriguez and Richard A. Tapia, University Professor, Maxfield-Oshman Chair in Engineering and director of the Tapia Center for Excellence and Equity.
"We encourage professional development and, increasingly, get involved with outreach in the bigger Houston community," Castillo said.
Last year, when serving as SHPE's outreach director, Mendoza led a team of nine members who worked with high-school teachers to organize a club of 25 Hispanic students interested in pursuing careers in STEM. She helped start a mentorship program at two low-income Houston high schools and directed a Noche de Ciencia (Science Night) at another, including a student robot-building competition.
Mendoza also serves as director of community outreach and Hispanic traditions for the Rice Catholic Student Association.
Mendoza, Castillo and 30 other Rice members attended SHPE's 2022 National Convention held in November in Charlotte, N.C. It attracted some 9,000 members from around the country.
"That's where the idea of familia was really obvious — all these people with similar backgrounds, learning and embracing what we have in common," said Castillo, who expects to go to work for Raytheon after graduation.
At the convention, Mendoza landed a summer internship with Honeywell and hopes to be hired by the company after graduation.
"By giving, by doing service and outreach, we get so much in return. This is part of the reason we think of SHPE as a family," she said.