Noelia Valdivieso is a sophomore at Houston Community College majoring in ocean engineering who spent the summer doing research at Rice University and expects soon to be enrolled at Texas A&M.
"I was always curious about how things worked but I had some challenges to overcome. Those things got in the way. At Rice I discovered what really interests me and what I can accomplish," said Valdivieso, a beneficiary of the National Science Foundation-funded Research Experiences for Undergrads (REU) program.
She is one of some 30 community college students who spent 10 weeks over the summer on the Rice campus, working in the laboratories of faculty members and graduate students.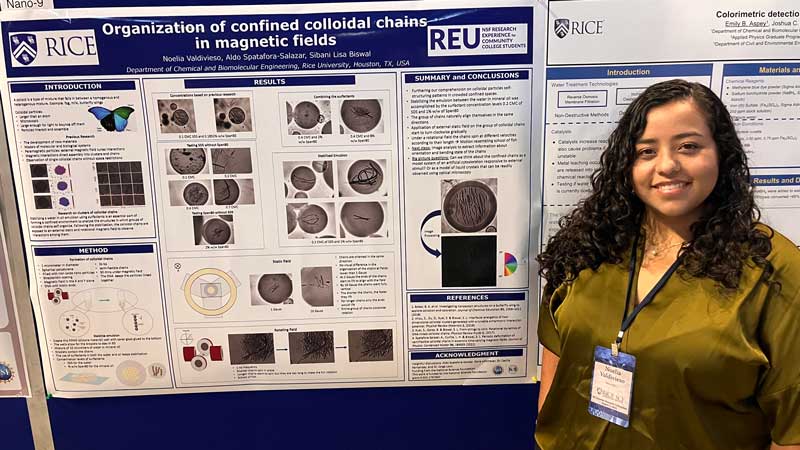 "The goal of this program is to facilitate educational opportunities with Rice engineering faculty in Houston and encourage youth to pursue engineering careers. The program was funded by NSF through Rice's Office of STEM Engagement. For many of these students, it was their first real research experience," said Cecilia Fernández, assistant director of diversity, equity, inclusion and outreach for the George R. Brown School of Engineering.
Valdivieso worked most closely with a doctoral student in ChBE, Aldo Stefano Spatafora-Salazar, who is a member of the research group headed by Sibani Lisa Biswal, the William M. McCardell Professor in Chemical Engineering.
"Basically, what we were looking into was para-magnetic particles, how colloids react to a magnetic field. This kind of work has many applications in medicine and biology," said Valdivieso, who is considering a career in teaching.
Carlos Francisco Gomez recently transferred from Lone Star College to the University of Texas at Austin, where he's a junior in chemical engineering. He spent the summer doing research as part of the Nanotechnology Enabled Water Treatment (NEWT) REU. He worked with Ibrahim Abdallah, NEWT associate director for wastewater testbeds, and Naomi Fuentes, a NEWT testbed intern and mentor.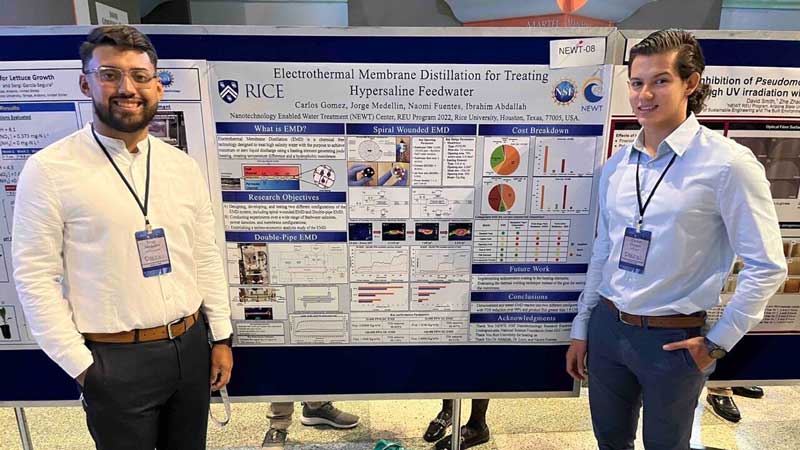 "We were working with desalinization processes. We wanted to produce clean, reusable water using little energy and no chemicals. We wanted a method that was not expensive so it could be used in under-resourced parts of the world," said Gomez, who explained that the research has applications in treating hypersaline wastewater that's a byproduct of the oil industry.
Gomez plans to earn a master's degree in chemical engineering.
"And then I'd like to start my own company," he said. "I would like to create something. I'm not sure what that might be yet but I know I can do it."