This article originally appeared in the 2022 issue of Rice Engineering Magazine.
For Rice undergraduate engineers, there's often little break-in time before starting their research.
Colter Decker arrived as a freshman in 2019, around the time Daniel Preston joined the faculty as an assistant professor of mechanical engineering (MECH). "When Colter started working in my lab that fall, it often felt like we were both learning and growing together," Preston said. "Now he's a senior. This will be our fourth year working together. His role in our lab is comparable to that of a Ph.D. student."
Undergrads are encouraged to get involved early, explore opportunities and join faculty-led teams of researchers.
"This gives our students an immediate chance to apply their technical knowledge, what they're learning in the classroom, build broader perspectives and expand their professional networks," Preston said.
While taking STAT 421, "Applied Time Series and Forecasting," taught by Katherine Ensor, Dileka Gunawardana '22 applied a statistical machine-learning technique called the support vector machine to census data. Her findings about business owners and self-employed people won first place in the International Conference on Establishment Statistics Student Contest.
"Dileka has been very busy. She works hard and has a deep love of statistics. I think she will succeed at anything she does," said Ensor, the Noah G. Harding Professor of STAT and president of the American Statistical Association. Gunawardana graduated last spring and now is a first-year doctoral student in STAT at Stanford.
"Statistics is a way of explaining our world that makes sense," she said.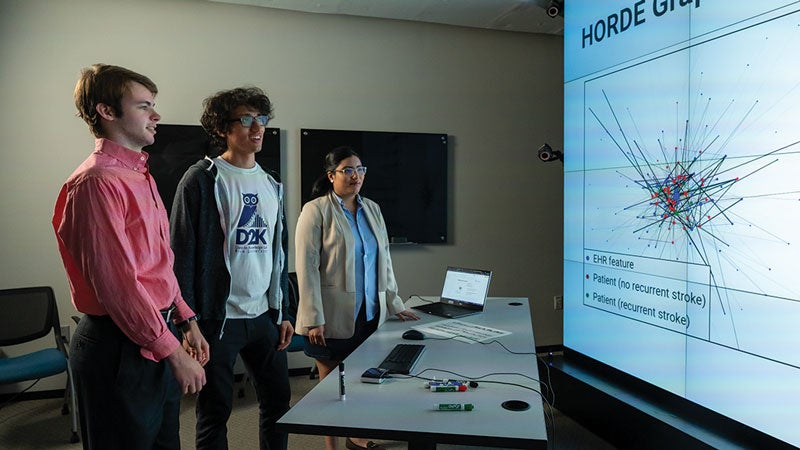 As a senior, Andrei Mitrofan is a research assistant in the Laboratory for Noninvasive Neuroengineering directed by Jerzy Szablowski, assistant professor of bioengineering.
Mitrofan works to develop therapeutics that act in a single brain region to reduce the side effects of currently available medications. The focus of his work is Parkinson's disease treatment, but his approach can be generalized to other diseases.
"Andrei is ambitious, motivated and very smart," Szablowski said. "He deals well with adversity and does not give up easily, which is why I think he will be a successful scientist."
Mitrofan was born and raised in Bucharest, Romania, where his parents are former engineers. "I was always interested in biology and health, though I liked physics as well," he said. "Neuroengineering is a vast field. We have so much to learn and what we learn will help people."
Shaan Nagy '22 graduated in the spring with B.S. degrees in computer science and mathematics. At Rice, he worked closely with Moshe Vardi, University Professor and the Karen Ostrum George Distinguished Service Professor in Computational Engineering at Rice.
"Shaan is one of these bright students," Vardi said. "When he was an undergraduate, I worked with him as if he were a Ph.D. student. I asked him to read deep research papers, absorb them and apply them to the problem we were studying. I do little hand-holding, as the goal is to teach students to be independent researchers."
The problem Nagy worked on was the computational complexity of the Ising model partition function. Named for the German physicist who described it a century ago, the Ising model, in the simplest terms, is a mathematical model of magnetism. Imagine a lattice of magnetic spins, each in one of two states, +1 or -1, each corresponding to two orientations for the magnetic moments of atoms.
"This is a widely used model with many applications; neural networks and biophysics, for example. It can help us understand such physical phenomena as sea ice melting," Nagy said. "The Ising model gives us insights into how local forces create global patterns."