Rice University will soon clear space for a new state-of-the-art engineering and science building to replace the historic Abercrombie Engineering Laboratory. 
Construction is expected to begin this summer on the 266,000-square-foot building that will cover roughly the same footprint as Abercrombie on the east side of Rice's Engineering Quad.
International architecture firm Skidmore, Owings & Merrill (SOM) has been selected as lead architect for the new building. Houston's Scientia Architects will consult on laboratory design.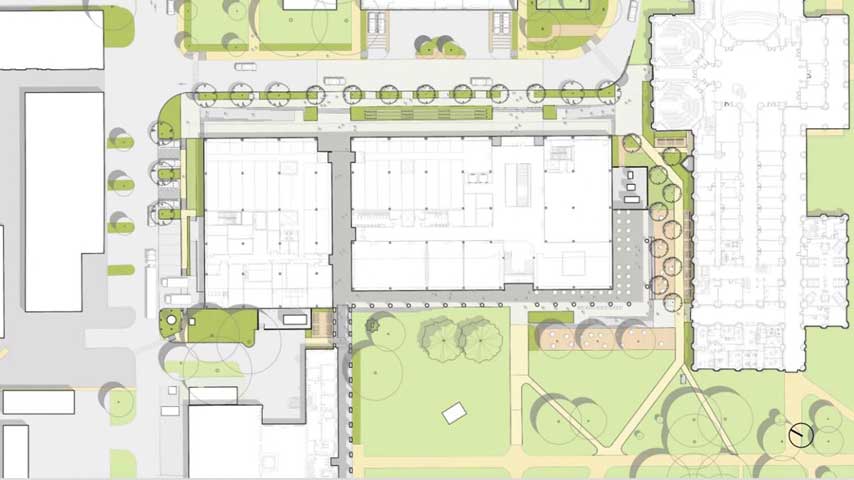 "This new building represents our largest single investment in engineering and science facilities since we completed the BioScience Research Collaborative (BRC) 12 years ago," said Rice President David Leebron. "It reflects our unwavering determination to stay at the forefront of the critical discovery and application of knowledge that will help solve the great challenges of our world."
The building has yet to be named, but will contain modern multidisciplinary labs.
The institute will foster collaborations to develop next-generation materials for energy systems, sustainable water, space systems, biomedical materials, telecommunications, manufacturing, transportation and security.
"We are simultaneously investing in new faculty and equipment, and this building will house pathbreaking research in such areas as quantum science and energy," Leebron said. "It will have state-of-the-art teaching facilities and maker spaces for design and fabrication that will take education in these areas to new levels."
Rice Provost Reginald DesRoches, who began working on plans for the facility during his tenure as the university's dean of engineering, said that while Abercrombie has served the university well over the past 70 years, the expansion of research at Rice requires space better suited to nanotechnology, materials science, chemistry, electrical and computer engineering, chemical and biomolecular engineering and physics, among disciplines that will occupy the new building.
"This building will allow us to usher in a new and exciting era of research and education that will have profound impacts on the future of Houston, Texas and the world," DesRoches said. "I believe it will bring people and disciplines together to collaborate, make transformational discoveries and amplify translational research."
Preliminary sketches of the structure designed by SOM show how the building will be situated in the Engineering Quad.
"Rice University is one of the one of a handful of campuses in the United States that attracts global attention among architects," said Craig Hartman, senior consulting design partner at SOM and lead designer of the building. "It's a university that values not only science and engineering, teaching all the research that goes with it, but also the art and architecture."
Hartman sees parallels between the new project and the BRC, which he also designed.
"'Collaborative' is the key word," he said. "The BRC represented a long-term view of where the campus might grow in the future, and collaboration between Rice and the Texas Medical Center. This building is most similar in terms of aspiration, which is to find new ways to collaborate in a multidisciplinary way between science and engineering, to take 21st-century problems that require reaching beyond the boundaries of traditional silos."
"This building has been designed from the ground up to amplify the remarkable interdisciplinary scholarship that defines Rice research," added Yousif Shamoo, vice provost for research and a professor of biosciences. "We are working with architects at SOM to combine the best qualities of our current buildings into a vibrant anchor for the north end of the campus."
Luay Nakhleh, the William and Stephanie Sick Dean of the university's George R. Brown School of Engineering, has firsthand experience with demands on the university and its faculty, having served as a professor of computer science and then department chair since his arrival at Rice in 2004.
"Engineering now is very short on space, and this is going to relieve a lot of those issues," Nakhleh said. "More exciting is that this reflects our view of the future of engineering. One big plus is that this new building will help us recruit the best faculty."
"The research planned for the building will keep Rice faculty and students at the forefront of areas that will have tremendous impact over the next several decades, such as advanced materials for energy transition and quantum computing, sensing and materials," added Thomas Killian, dean of the Wiess School of Natural Sciences.
Abercrombie was built in 1947 in the same era as Fondren Library and architecture's Anderson Hall, and was named for alumna and philanthropist Josephine Abercrombie '46, who later served on the Board of Trustees and chaired its Buildings and Grounds Design Subcommittee.
The building famously hosted R1, the Rice Computer, which served from 1960 to 1971 and was known to be the largest and fastest computer on a university campus when it was built. Abercrombie was also home to the biomedical lab of William Akers, who was instrumental in developing the first artificial heart in 1965.
Preservation of the iconic bas-relief sculpture "Energy" that now greets Abercrombie visitors is part of ongoing discussions. The sculpture was designed by a Rice alumnus, William McVey '27.
"From day one, we've been reminding the design team that Rice folks will appreciate us trying to maintain or incorporate the sculpture into the new building," said University Architect George Ristow. "It could be inside or in one of the passageways, but a lot of ideas are in play."