This article originally appeared in the 2022 issue of Rice Engineering Magazine.
After a brief spell of homelessness, Michael S. Wong will soon have a new home, all clean and shiny.
When he joined the Rice faculty in 2001, Wong set up his research lab in Abercrombie Engineering Laboratory, a building then already more than half a century old.
"It had character," said Wong, the Tina and Sunit Patel Professor in Molecular Nanotechnology and chair of chemical and biomolecular engineering (ChBE). "It sucked but it was my home, warts and all. I did my foundational research in there."
The demolition of Abercrombie started in May 2021. Wong's new lab and the ChBE department's office will be on the second floor of the Ralph S. O'Connor Building for Engineering and Science, now under construction on the engineering quadrangle.
Even before demolition of the old building started, Wong began photographically documenting the architectural transformation, including a series of "time-lapse" photos taken from the same location over the last year and a half.
"I wanted to preserve the change over time for myself, but it may have some historical importance as well," Wong said.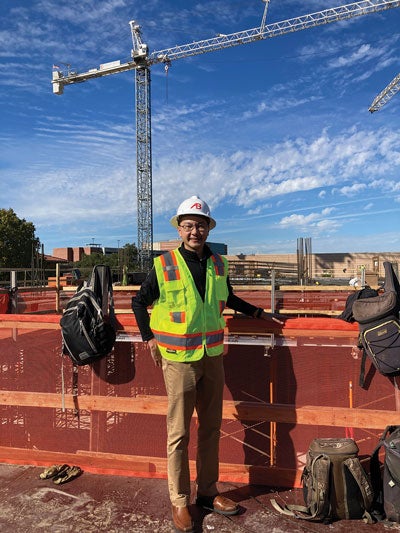 When it opens in summer 2023, the $152 million structure will feature five floors of research laboratories, classrooms, offices, seminar rooms and a makerspace. The common areas will include a lobby and a café, and the top level will have a reception suite and outdoor terrace. "My office in Abercrombie Lab was on the second floor," Wong said. "Appropriately enough, my new office will also be on the second floor of the new building."
Ralph S. O'Connor, who died in 2018, but was a longtime benefactor of the university. In Houston he pursued a career in the energy industry and fell in love with the Rice campus.
The university received $57 million from O'Connor's estate. It is the largest donation from an estate in Rice's history and is expected ultimately to total more than $60 million. When added to his previous gifts to Rice, O'Connor's lifetime and estate donations total $85 million.".
"How fitting that this building will be named after Ralph O'Connor," said Rice president and former engineering dean Reginald DesRoches. "He was a man who always looked to the future, and the future is what this new engineering and science building is all about. Discoveries made within those walls could transform the world. Anybody who knew Ralph O'Connor knows he would have loved that."
Wong gets a little nostalgic remembering his two decades at home in Abercrombie. That is, until he recalls the Great Abercrombie Flood of 2014. On an otherwise typical Houston Wednesday night, July 30, a water line burst overnight, flooding labs and offices and resulting in more than $2 million in damage. Especially hard hit were the ChBE offices and the labs of senior ChBE researchers George Hirasaki, Clarence Miller and Kyriacos Zygourakis.
"The O-ring, the metal pipe clamp and the broken bolt that held the clamp on the water line that burst — I kept them all as souvenirs," Wong said.
In addition to the ChBE department's office, the O'Connor Building will also house the departmental office for materials science and nanoengineering, and the Welch Institute.
"It will not be a ChBE building," Wong said. "It's important to stress that. But it will be the new home for ChBE. Our staff will be there. Our first-year students will be there. Fully one-third of my faculty will have offices and labs there, once fully moved in, but the nature of the building is interdisciplinary. Again we have a home."
To see more photos, follow Michael S. Wong on Twitter.