Two months into her bioengineering Ph.D. at Rice University, Melody Tan's career trajectory was completely changed by the 2016 election. Now, rather than working in bioengineering, she is a senior policy advisor in the U.S. House of Representatives.
 "I had never really engaged in politics before," said Tan, who earned a B.S. in bioengineering and her Ph.D. in 2021 — both from Rice. "After that election, I felt I had a responsibility to become personally involved in moving this country forward in a positive way."
During her undergraduate bioengineering training at Rice, Tan spent two years contributing to vaccine research in the lab of Peter Hotez at Baylor College of Medicine. She went on to complete an M.S.E. in Bioengineering Innovation and Design at Johns Hopkins University and a year as a bioengineering analyst at a medical device consultancy. 
Thanks to her Rice bioengineering training, which included many presentations, Tan had honed her message delivery skills. Her ability to clearly convey important points led to her role as an undergraduate peer coach in the Activate Engineering Communication Program. Upon Tan's return to Rice for her Ph.D., she was invited to pick up that coaching role again. She said she felt confident about engaging with audiences on complex topics, but little else in her previous professional experiences prepared her for a job working in Congress.
"I sought out opportunities to learn more about politics and policy. Taking that initiative to carve out a unique path for myself led me to my work today," she said.
Shortly after the 2016 election, Tan looked to get involved in local politics and tried a variety of activities that pushed her out of her comfort zone. When the next election drew near, she volunteered for a Congressional candidate who resonated with her own values.
Communicate what matters, more quickly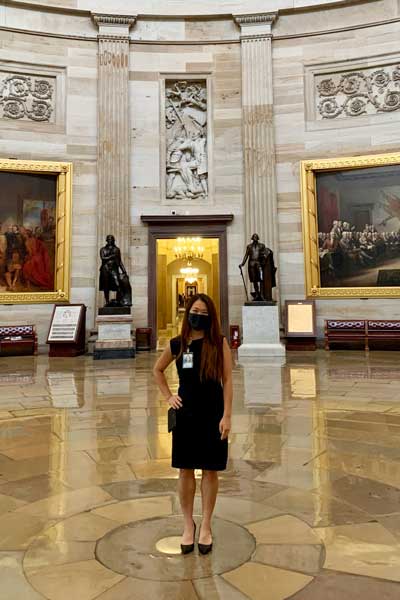 Tan block walked, phone banked, and registered voters. "It was terrifying in the beginning," she said. "I had to learn to get my message out quickly before the door was shut in my face."
"Once during a Houston downpour, I remember telling someone I was so excited about my candidate that I was walking door to door in the pouring rain to get the word out. He responded, 'I don't care about that,'" said Tan. "It was a lesson in always focusing on what resonates with the intended audience when communicating."
While Tan tailored her communication skills to pitch candidates and policies, she met other graduate students who expressed interest in contributing to policy at various levels. She also reconnected with Kirstin R.W. Matthews, a fellow in science and technology policy at Rice's Baker Institute for Public Policy, and started working with her on vaccine issues.
In 2019, Tan was selected as a Mirzayan Fellow at the National Academies of Sciences, Engineering, and Medicine and, with the blessing of her Ph.D. advisor Rebecca Richards-Kortum, paused her research to spend three months in D.C. This formative experience helped her understand how the National Academies, think tanks, advocacy organizations, Congress, and federal agencies interface and shape policy.
Teach others to communicate about science and engineering
"Upon returning to Rice, I really wanted to share all I'd learned with other grad students who were interested in policy," Tan said. "Kirstin was supportive, and we created and taught a graduate-level class called Developing Civic Scientist Leaders. Our weekly seminars covered topics like the federal budget and legislative process and brought in guests who discussed their policy careers. We also spent time workshopping op-eds on scientific issues that made the salient points easy for a general audience to understand."
Tan's previous experience as a Rice student engineering communications coach, campaign volunteer, and policy fellow had significantly impacted her communication style. As her classmates crafted their own messages, they benefited from Tan's advice and the lessons she had already learned.
In her final Ph.D. year, Tan founded the Rice Science Policy Network and the Texas Science Policy Fellows program to further help train scientists and engineers in productive civic and legislative engagement.
"These initiatives were born out of the same desire that led me to create the course with Kirstin," said Tan. "We need more opportunities for grad students who are curious about policy and want to get involved – particularly if they don't have to pause their research or move to D.C. There are plenty of ways to have an impact locally with the city council, with county commissioners, and in the state legislature."
Find or create policy engagement opportunities
Tan's first group, the Rice Science Policy Network, was launched to identify these kinds of opportunities for her fellow graduate students at Rice. "We were doing everything virtually in 2020; we used Slack, Twitter, and Zoom calls to share a lot of science policy resources. To implement what we were learning, we got together in smaller groups to work on different issues. Our initial projects included developing our science communication skills by creating infographics about COVID and writing about immigration policy," said Tan.
The second organization Tan created, Texas Science Policy Fellows, was a pilot program modeled after other emerging state level fellowship programs across the country. Four science and engineering graduate students worked part-time to support a vaccine advocacy organization by tracking bills, writing memos, and distilling hearing arguments in the Texas Legislature. "Creating this program was great practice in clearly articulating a vision, getting buy-in from partners, and communicating feedback with the fellows," Tan said.
These experiences further confirmed to Tan her interest in a career in politics and policy. As she was wrapping up her Ph.D., she secured a second fellowship – this time as an American Association for the Advancement of Science fellow in Congress.
"I defended my Ph.D. thesis in June of 2021, moved to D.C. in August, and started my fellowship in the Senate in September. Just a year later, I moved over to the House of Representatives for a permanent position as a legislative staffer. During my fellowships, I focused on health policy but now I also cover environmental, energy, science, space, and technology issues."
Advancing policy in these areas requires Tan to draw on her communications experience. She said, "My role involves constant communication — including with constituents, stakeholder groups, offices across the aisle, and my Member of Congress. I've come a long way from where I started. Every lesson, since I first knocked on doors, helped prepare me for where I am today."