Jackson Hughes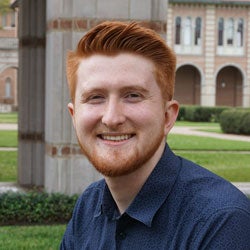 Jackson Hughes (McMurtry '24) is majoring in MSNE with dual minors in entrepreneurship and financial computation and modeling. Despite the complicated material, he always enjoys presenting ideas and explaining his thought processes. High school speech competitions helped develop his skill, and his RCEL work has provided opportunities for significant growth. He attributed some of his success to the wide variety of written and oral communication formats that span his RCEL projects to keep him learning and progressing his skill set. This variety makes him uniquely suited to serve as a peer communication coach.
"Coaching my peers in their engineering communication efforts allows me to share my knowledge with them and give them an outside perspective. In turn, they have exposed me to numerous engineering fields and projects that I had not previously known and that has been building my knowledge base. Additionally, working with my peers hones my own skills; every piece we review presents its own unique strengths and challenges," he said.
Aidan McAnena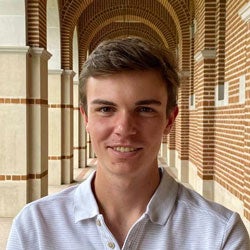 Aidan McAnena (Baker '22) is headed to the University of Massachusetts Chan School of Medicine as an MD student. His pre-med path at Rice was shaped by his decision to major in bioengineering to learn how to think more critically about problems in biology and think more creatively about solutions. He said, "Working with and learning from my peers in BIOE has been one of my favorite aspects of the major and community." As a peer communication coach, he enjoys learning about other groups' projects and the problems they are solving.
Olivia Goganian
Olivia Goganian (Jones, '24) was first drawn to Rice's mechanical engineering program because it supported her interest in aerospace engineering. "Since coming to Rice, I've learned how well the mechanical engineering major prepares you for many different fields," she said. Olivia is also well prepared to serve as a peer communication coach for other engineering students. After her final ENGI 120 presentation, the ACTIVATE instructors complimented her work and invited her to join the team.
"Preparing for my final presentation in ENGI 120 was critical in developing my communication skills. Through multiple practice sessions with different audiences, I was able to prepare myself for any question my team could receive. This built up my confidence for the actual presentation and enabled me to present as an expert on the subject."