The numbers are already looking good for incoming Rice Engineering Alumni (REA) president Jim Pyke '97.
In summer 2022, seven students landed internships at four companies thanks to the REA's Summer Engineering Experience, created by Pyke. This summer, 16 students are working as interns at 11 companies and Pyke is optimistic the numbers will continue to grow.
"We open the application process in January and close it in April, and we get flooded with students wanting to work. I see the program as the heart of our mission as Rice alumni," said Pyke, who will take office as REA president for a one-year term on July 1, succeeding Marylauren Ilagan '04.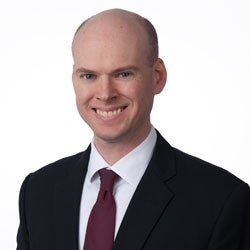 Pyke was born and raised in Akron, Ohio, and had an early interest in math. He earned his B.S. in mechanical engineering and B.A. in mathematics from Rice in 1997. He went on to the Harvard Business School for his MBA in 2003.
"At Rice," he said, "I grew as a person. I was in the ultimate Frisbee team, Beer Bike and theater. Along with the academics, all of that social experience helped me become who I am today."
After leaving Rice in 1997 he went to work for Enron. A series of jobs with various consulting firms, including McKinsey & Co. in  Houston, followed. He moved to Colorado in 2010 to work for Quanta Services in Denver, a $5-billion publicly traded company with more than 15,000 employees that serves the electric power, gas and telecommunications industries.
In 2019, Pyke founded his own company, TCB Advisors of Vail, Colo. He describes it as a "boutique consulting firm," with an emphasis on energy transition.
"I help companies grow," Pyke said. "I advise corporate stakeholders on strategy and growth opportunities in markets undergoing transformations. My clients are private equity firms across the energy space in solar, renewables, electric utilities and energy service companies."
Pyke resolved to repay some of his debt to Rice and in 2020 joined the REA's board of directors. He heads the group's DEI Task Force and helped organize its Summer Engineering Experience program.
"Among my other goals is reenergizing the REA at the chapter level around the country," Pyke said, "encouraging more events and getting them involved with what's happening with students on campus. I want our alumni to know how they can volunteer. I want to encourage more outreach."
Pyke feels his experience in professional services has prepared him to further the REA's mission. "I've read thousands of résumés in my time," he said. "I know what works and what industry is looking for. Now I want to pass along that knowledge."