An exhibit honoring the contributions of the late William Akers, longtime Rice University professor and a pioneer in the development of the world's first artificial human heart, is on display on the first floor of the Bioscience Research Collaborative (BRC).
The text for the exhibit includes this passage:
"Starting in 1963, Dr. William W. Akers and Dr. David Hellums, who founded the bioengineering program at Rice, collaborated with Dr. Michael DeBakey and colleagues to develop several models of artificial hearts that were tested in flow circuits in the laboratory, in animals, and even in patients."
Present for the exhibit's unveiling on Aug. 20 were Akers' daughter, Carol Akers Klug and Susan Akers Hirtz. The exhibit was designed by Donald Soward, the senior graphic designer for the George R. Brown School of Engineering. Amanda Focke, head of special collections for the Woodson Research Center at Fondren Library, provided archival material and oversaw the exhibit design.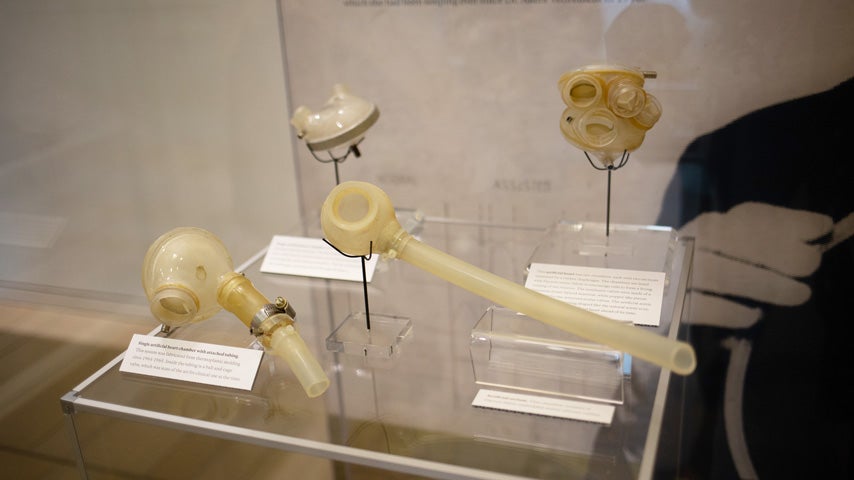 In 1947, Akers joined the Rice faculty as an assistant professor in chemical engineering, and went on to serve as department chair from 1955 to 1965. In 1963, Rice President Kenneth Pitzer called a meeting with Akers, other Rice engineering professors and Dr. DeBakey of Baylor College of Medicine to discuss plans for devising an artificial heart.
That same year Akers founded Rice's Laboratory for Biomedical Engineering, and in May 1965 surgeons at Baylor implanted a working model in a patient, with the artificial pump moving blood from the left atrium to the aorta.
"When his former lab assistant Marcella Estrella retired, she gave the bioengineering department a box of old artificial hearts that Dr. Akers and his team had developed in the 1960s," said Jane Grande-Allen, the Isabel C. Cameron Professor of Bioengineering (BIOE). "That's how this exhibit got started."
Grande-Allen collaborated on the exhibit with Michael S. Wong, chair of the Department of Chemical and Biomolecular Engineering.
"I had the great fortune of getting to know Bill when I started as an assistant professor in chemical engineering, and over the years gained a deep appreciation of his research impact," said Wong, the Tina and Sunit Patel Professor in Molecular Nanotechnology. "I worked closely with Jane when she came up with the idea to fundraise and create a display to honor Bill's legacy. Ultimately, the departments collaborated with the School of Engineering to come up with the exhibit."
Akers' collaboration with Rice faculty and physicians at Baylor led to decades of pioneering research in the biophysical dynamics of blood flow, shear stress and strain, and how these factors play a role in cardiovascular disease. In 1973, he began serving Rice in administrative roles, becoming development director, vice president for external affairs and vice president for administration, while still teaching classes.
"I want to give back a small portion of what I have been given. It's good for the students and it's good for us," said Akers in 2015 after giving the university $1 million to establish the William W. Akers Endowed Engineering Scholarship fund to support high-need, undergraduate engineering students who maintain a 3.0 overall grade point average or higher. Akers retired from Rice in 1993 and died in 2017 at age 94.
"It was such a pleasure to get to know him." Said Grande-Allen, "and to learn about his remarkable contributions to Rice, to the field of bioengineering and to the development of devices to treat heart failure."
Pictured at top: Amanda Focke, left, Jane Grande-Allen, Susan Akers Hirtz, Carol Aker Klug, Karen Ethun.